You don't need a fax machine to receive faxes any more. You can start receiving faxes securely with WiseFax, an online fax machine service, instantly. Even more, you can transfer your existing fax number to WiseFax. So you will replace your old-fashioned fax machine with a modern online fax solution.
How can I transfer my fax number to WiseFax?
Fill-in and sign the number port order.
Send the filled-in and signed port order, along with the Copy of Bill, as described in page #3 of the form, to info@vanaia.com.
Sign-up for a fax number subscription at https://www.wisefax.com/get/. Our system will dedicate one of the currently available fax numbers, which will be changed once your fax number porting process will be completed.
Complete the fax number port order at https://sites.fastspring.com/vanaia/product/faxnumbertransfer.
You can use your fax number from step #3 to receive faxes until your fax number is ported. You do not need a physical fax machine.

The time to completion of the process of porting your fax number to WiseFax largely rests on the accuracy of the information you have provided and the speed with which your current carrier processes the request. If any issues during the porting process arise, we'll let you know immediately and provide you with guidance on how you can move the port request forward.
You will be able to use the temporary fax number (from step No. 3 above) while the fax number porting process will be in progress.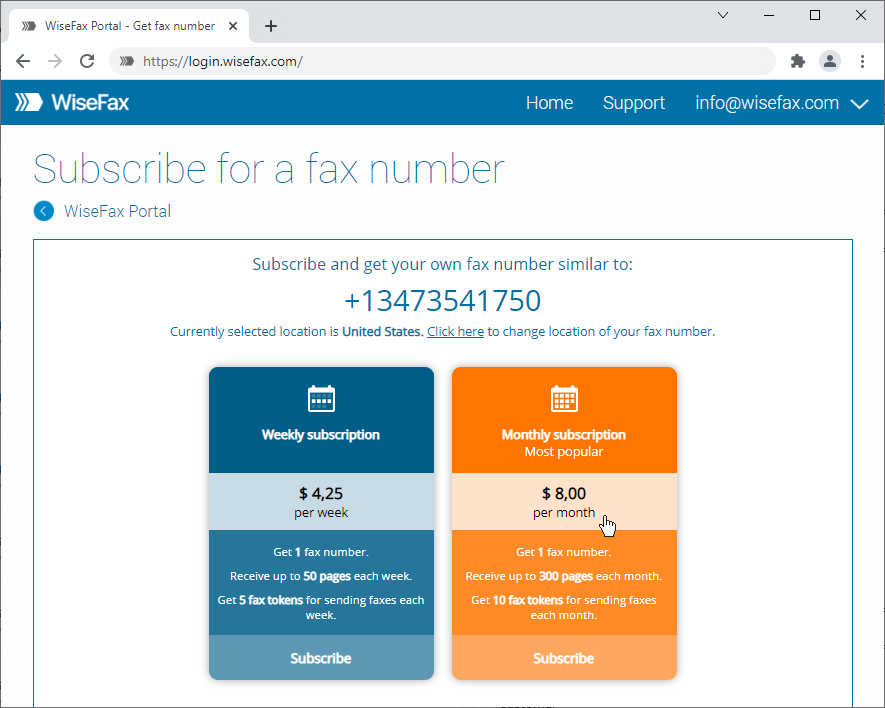 Understanding number porting
Number porting, or local number portability (LNP), is a system that lets you keep your phone numbers when you switch communication service providers. Before number porting the consumer had two choices. They were able to choose their service provider, and they were also able to choose pricing. However, the problem was that they couldn't keep their phone number. LNP changed that. With the advent of number porting, people are now able to retain their phone numbers despite changing their communications service provider.
We are here to help you lower your fax costs by switching from old-fashioned fax machine to a modern online fax solution, and at the same time to keep your existing fax number. Following the steps described above your fax number will be transfered to WiseFax, allowing you to receive and send faxes online.

More resources
Get your own fax number now
Send fax with WiseFax
How to fax PDF document?
You can transfer your fax number to WiseFax, so start using your own online fax machine now.