When you send a fax, WiseFax automatically generates the confirmation report. You can download and print out confirmation reports for future references. The report includes fax delivery status and a complete copy of the fax, which serves as a proof of delivery.
Where can I find confirmation reports for my faxes?
Visit WiseFax portal and sign-in if needed.
Click the Your faxes button.
Find your sent fax and click the Download copy button next to it.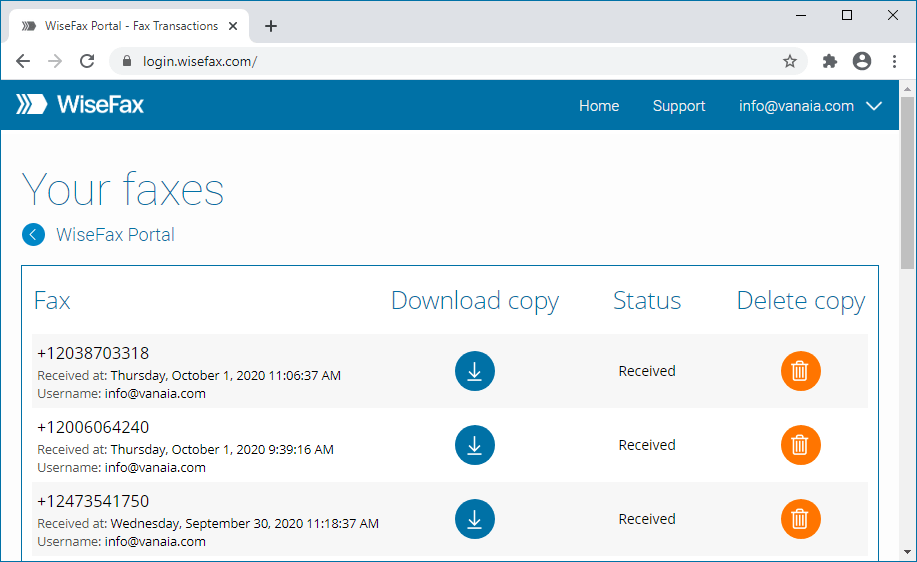 We store fax confirmations and copies for 30 days for users of our pay-as-you-go services. WiseFax users with active fax number subscription can get their fax confirmations for all the duration of their subscription. You can download confirmations and copies by selecting Your faxes option in WiseFax portal.
Receiving fax confirmations to email
We will send an e-mail confirmation as soon as your fax gets delivered to the recipient. Also the link to the fax confirmation is provided in email. If for some reason WiseFax will be unable to fax your document, then you will also receive an e-mail notification from WiseFax.
WiseFax also allows you to receive fax confirmations of successfully sent faxes to your email. Emails that you receive from us will be encrypted if encryption support is enabled in your email system.
To receive fax confirmations directly to email, you have to choose the option "I wish to receive copies of my faxes also as an attachment in e-mail" in the Secure Fax area in WiseFax portal. The other option only sends you an email with information about status of your sent fax, and with provided link for downloading the confirmation report. Don't forget to Save Preferences after changing the option.

More resources
Get your own fax number now
Send fax with WiseFax
How to fax PDF document?