You don't need a fax machine for faxing any more. You can start receiving and sending faxes securely with WiseFax, an online fax service, instantly. WiseFax allows its subscribers also customizing a fax header for outgoing faxes.
How to customize a fax header?
Sign in to WiseFax with your existing account
If you do not have a subscription, get a fax number first.
Find the "Custom fax header title" option.
Check the "Use custom title in fax header" option and write your fax header.
Save Preferences.

Custom title will be appended to the fax number in the header of all faxes that you send from your fax number.
How does a subscription work?
You can get your own US or Canada based fax number for the fixed monthly cost of $8.00 (or for the fixed weekly cost of $4.25). Subscription to fax online service includes one fax number, to which you can receive up to 300 pages per month (or 50 per week), and additional 10 fax tokens each month (or 5 fax tokens each week) that you can use for sending faxes. There are no start-up or cancellation fees. Also customizing fax header for outgoing faxes is possible when having an active subscription.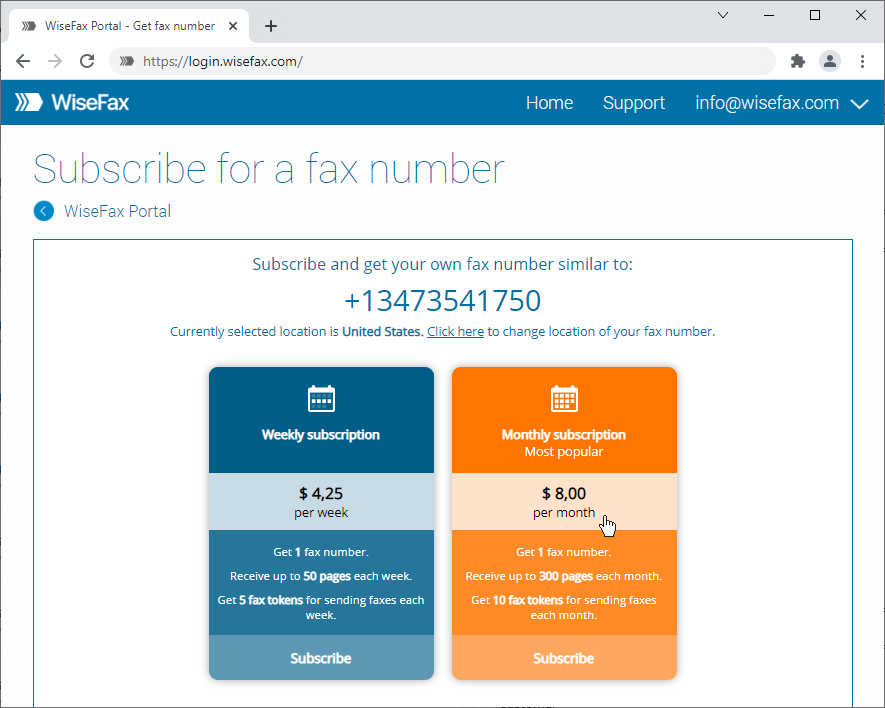 You can get your fax number immediately after registering or signing-in at WiseFax Account website, by choosing the option "Get fax number" and making a payment. Your new fax number will be activated immediately after completed order, and you will be immediately ready to receive faxes with WiseFax fax number.
If you already have an active subscription for your fax number, then you'll find an option "Your fax number" at WiseFax Account website, where you can monitor your subscription status. Subscription will automatically renew at the end of each subscription period, which also preserves your current fax number. You can cancel your subscription at any time, if you don't want to receive faxes with WiseFax fax number anymore. Without any cancellation fees.

More resources
Get your own fax number now
Send fax with WiseFax
How to fax PDF document?
Now you know how easy is customizing a fax header with WiseFax.