Here, we will explain how to send a fax online quickly and easily. With WiseFax fax service, you can send fax online in just a few seconds, and receive Google fax confirmation in your Gmail.
Upload your document to WiseFax
Select recipient's country and enter recipient's fax number
Sign in and make a one time purchase of fax tokens, if required
Click the "Send" button to confirm your fax

How to send a fax online?
If you are wondering, how to send a fax online, then do not look any further. WiseFax is a simple to use website that allows you to send a fax online quickly, easily and securely. Simply start by uploading your document to WiseFax. There, you can fax PDF, Microsoft Office, Apple Pages, Apple Numbers, Apple Keynote, LibreOffice, OpenOffice, Hancom Hangul, ScanWritr documents, and JPEG, GIF, PNG, HEIC, TIFF, BMP bitmaps and scans.
To upload your document, use the Click here to select the document button. A new window will pop-up where you will be able to select the document that you want to fax.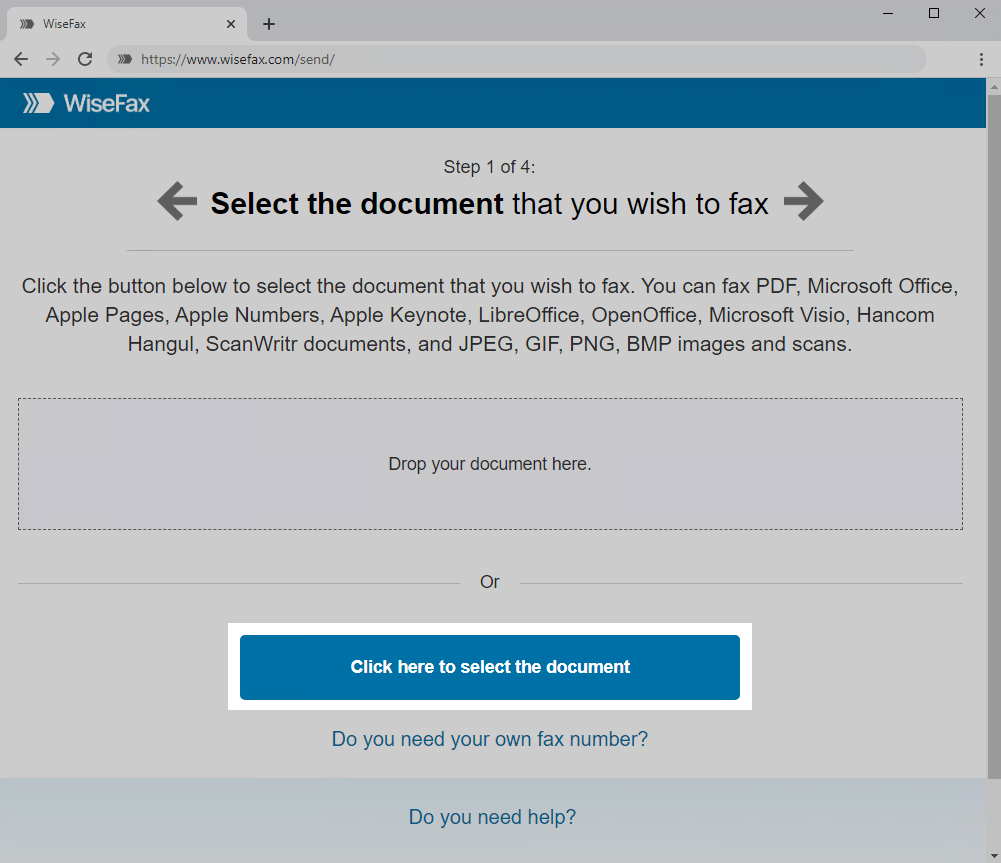 In the next step, select pages that you wish to fax. If you wish to add additional pages from another document, simply click on the Add Pages and select the document that you wish to add pages from.
Press the Continue button, once you have selected all pages that you wish to fax.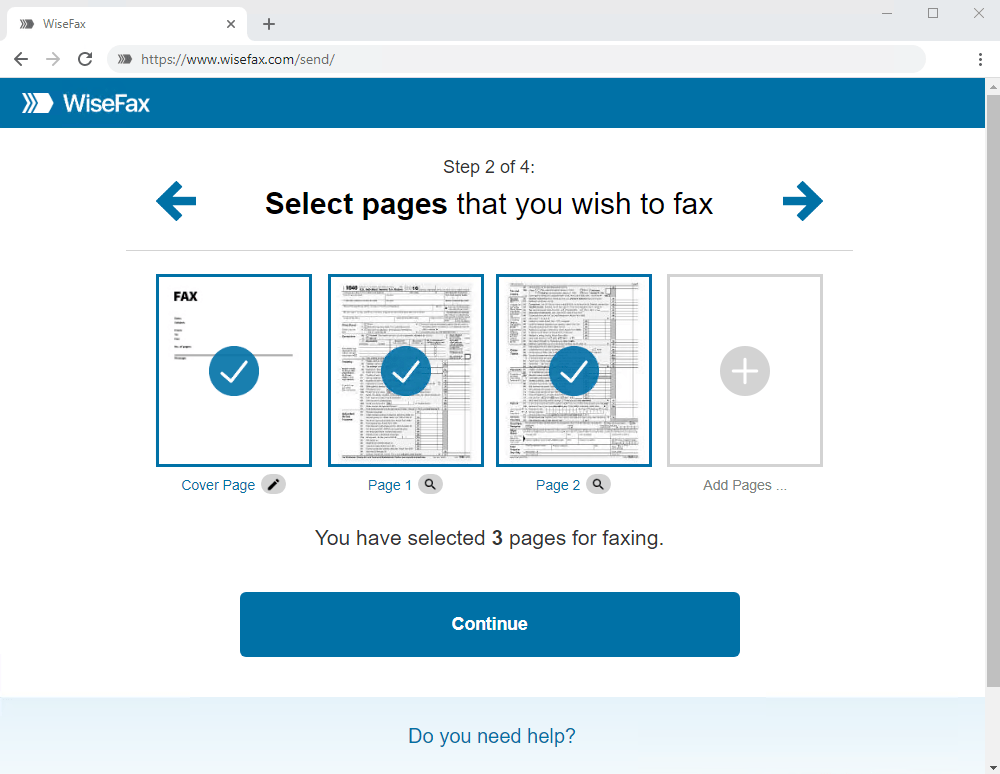 Enter the recipient's fax number in the next step, then click Continue.


Signing-in, confirming, and getting Google Gmail fax confirmation
Select an account that you wish to use to send a fax online. You can sign in with your Google, Apple, Microsoft Live, Facebook or Vanaia account.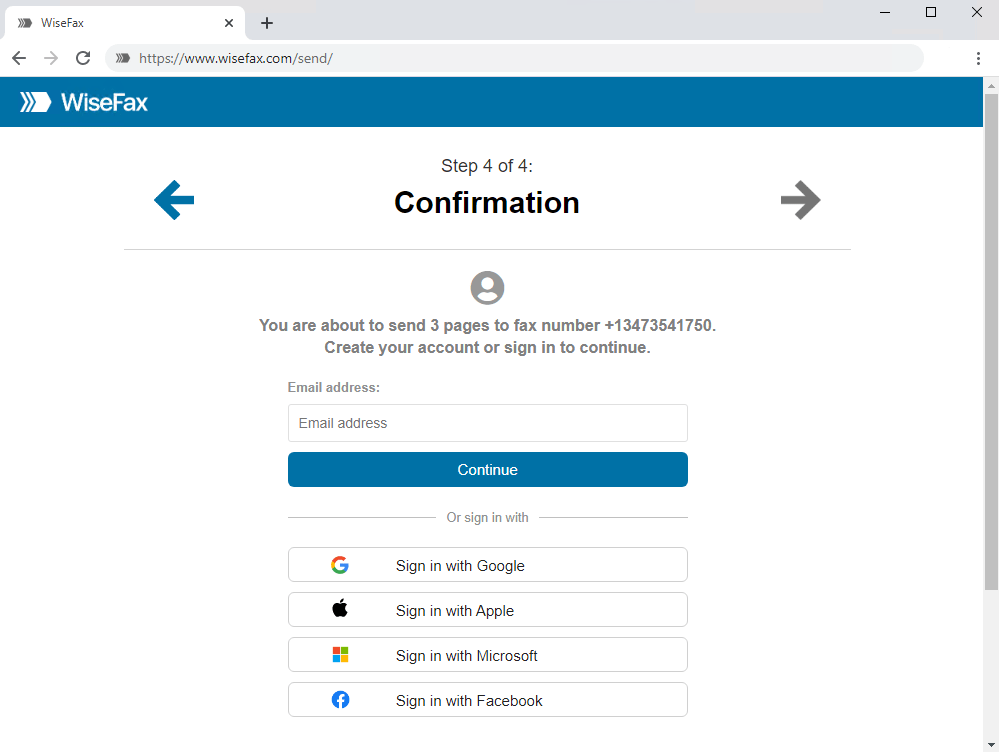 If you don't have enough fax tokens to send your fax yet, then use one of the purchase options and make a one time payment. The last step to send a fax online, is to click the Send button. You will receive an e-mail notification as soon as WiseFax will start processing your fax. This usually happens couple of minutes after you had pressed the Send button.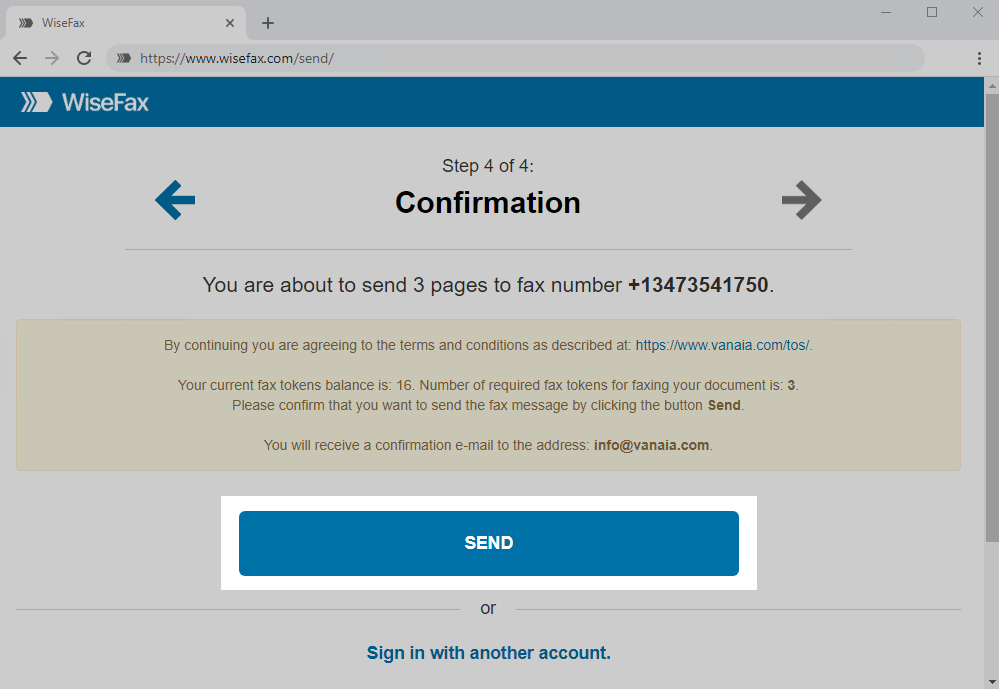 If you are signed in with your gmail account, you will receive a Google Gmail fax confirmation as soon as your fax will be delivered to the recipient.
If for some reason WiseFax will be unable to fax your document, then you will also receive an Gmail notification from WiseFax. You will then be able to fax your document once again later without purchasing additional fax tokens.

More resources
Send fax from Gmail
How to fax PDF document?
WiseFax online fax service
How to fax Word document?
WiseFax add-on for Google Docs