Your business does not need a fax machine to send or receive faxes. WiseFax offers you an ideal online fax solution for a business use.
How to get a business fax?
Visit WiseFax website and sign-in or register.
Invite your colleagues to your organization and start faxing.
You can also get your own fax number for receiving faxes.
All sent and received faxes are available to you and all your colleagues online. You do not need a physical fax machine.

Business online fax for your organization
WiseFax online fax service allows you and all members of your organization to use a single online fax solution. So, WiseFax can cover all faxing needs of your business.
After signing into WiseFax, you can invite your colleagues to use WiseFax together with you. Once you do that, they will receive an e-mail invitation with the link to accept your invitation. They will gain access to the organization online fax once they accept the invitation, which will allow them to send and receive faxes in the same way as you. WiseFax online fax for business is easy to set up and easy to use.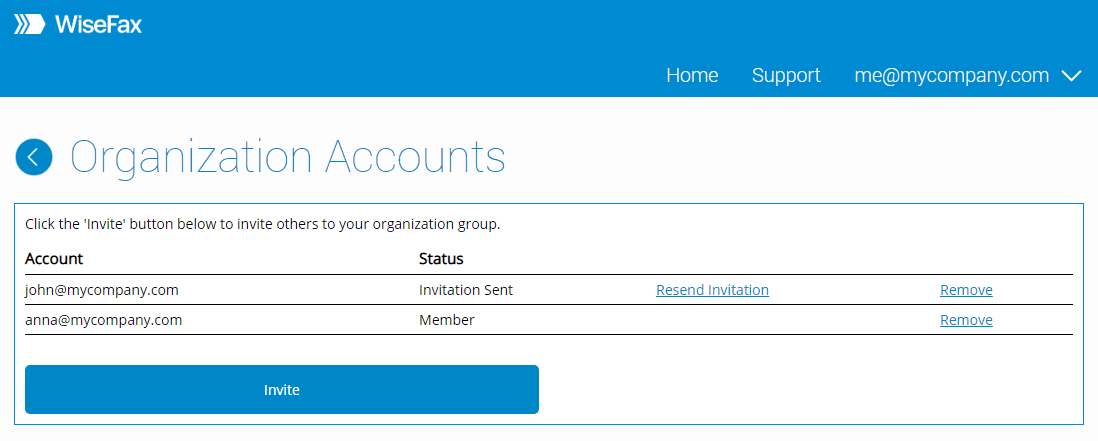 Every member is allowed to send and receive faxes in the same way as you. Everyone in the organization have full access to copies and confirmations of sent faxes. Also, everyone in the organization can quickly and easily access received faxes online. All faxes are securely stored.
Benefits of a shared online fax
WiseFax online fax allows your company to use one single online fax service. So, you only pay one subscription for WiseFax fax number. All received faxes are securely stored online, and available to all your team members. Also, when buying fax tokens for sending faxes, you buy them for the entire organization.
Port your existing fax number to WiseFax
You can also port your existing fax number to WiseFax, and set your business name in the fax header to all faxes that you will send with WiseFax. So, your customers will not even notice that you changed your fax provider.

More resources
Get your own fax number now
Porting existing fax number to WiseFax
How to add your business name in the fax header?
Send a fax with WiseFax
So, sign in to WiseFax and start using your own online fax for business.