Get your own fax number easily now
You can get your own fax number right now with WiseFax. WiseFax is an online fax service that lets you send & receive faxes quickly and easily online. You can receive faxes through your email, using a web browser, mobile phone, or desktop computer.
Simply follow these steps to sign up for your own fax number and start receiving faxes:
Sign-in or register and click the "Get your fax number" button to activate your fax number.
You can now start receiving faxes. You do not need a physical fax machine.

Receive faxes to email
Once you get your fax number, we will send an email notification to you whenever a fax will be received to your number. The email notification will include a link to WiseFax portal. There, you will be able to download received fax in PDF format. Your faxes will also be available for download at https://login.wisefax.com/, under "Your faxes" section.
Receive faxes online with your web browser
Faxes that will be received to your number will be securely stored in WiseFax portal. To download the received faxes, simply visit https://login.wisefax.com/ and select "Your faxes" option. So, accessing your faxes is always easy with WiseFax.
Receive faxes on your phone or desktop computer
WiseFax comes with an iOS, Android, and Android apps. You will get a notification in the app when a fax will be received to your fax number. So, you will be able to quickly and easily download the received fax in WiseFax app.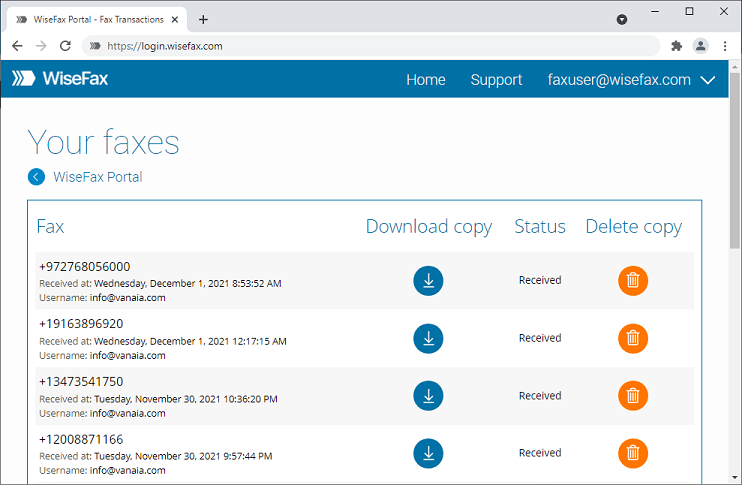 How to port your existing fax number to WiseFax?
You can use your existing fax number with WiseFax. Click here to learn more about porting your existing number to WiseFax.
How to get a fax number with WiseFax subscription?
You can get your own US or Canadian fax number for the fixed monthly cost of $8.00 (or for the fixed weekly cost of $4.25). Subscription service includes one fax number, to which you can receive up to 300 pages per month (or 50 per week). You also get additional 10 fax tokens each month (or 5 fax tokens each week) that you can use for sending faxes. Sending a fax to most countries requires one fax token per page. Moreover, there are no start-up or cancellation fees.
Click here to sign up for your subscription and start receiving faxes immediately.
If you already have an active subscription, then you'll find option "Your fax number" at WiseFax Account website. There, you can monitor your subscription status. Subscription will automatically renew at the end of each subscription period. You can cancel your subscription at any time, if you don't want to receive faxes with WiseFax anymore. There are no cancellation fees.

Why choose WiseFax?
Reliable & Secure
WiseFax is a highly reliable and secure service. It includes functions such as multiple automatic retries and automated re-routing of outbound faxes. So, WiseFax can provide a high success rate of fax delivery, as well as fax status tracking and delivery confirmations. All your faxes and other personal data is securely stored on our servers that adhere to security and technical best practices. We also guarantee that the collected data is transmitted over a secure HTTPS connection. Learn more about WiseFax reliability and security.
WiseFax fax number is great for personal use
WiseFax is an ideal solution if you need a reliable and secure fax number and start sending and receiving faxes instantly in your home. For instance, you do not need a physical fax machine or phone line. All you need is an internet access and your internet browser to send and receive faxes with WiseFax fax number. So, sending & receiving faxes is quick and easy with WiseFax.
WiseFax fax number is great for teams, business and enterprise use
WiseFax offers an ideal online fax solution for teams, businesses and enterprises. You can start using an online fax service in your organization quickly and easily. WiseFax allows you to manage members of your organization and use a centralized online fax service solution. Learn more about setting up an online fax solution for your organization.
Easy to access fax copies and archive
Copies and confirmations of your faxes are securely stored and can be accessed at WiseFax portal. WiseFax also allows you to receive copies of your faxes to your email. Emails that you receive from us will be encrypted if encryption support is enabled in your email system.
Online signature and document editing
WiseFax allows you to edit, fill-in, and sign documents without any application installation quickly and easily. You can edit and fax PDF, Microsoft Office, Apple Pages, Apple Numbers, Apple Keynote, LibreOffice, OpenOffice, Microsoft Visio, Hancom Hangul, ScanWritr documents, and JPEG, GIF, PNG, BMP, HEIC, TIFF images and scans. So, you can use your fax number to easily sign, fill-in, edit, and fax almost any type of document.

More resources
Send fax with WiseFax
How to fax PDF document?
Receiving faxes online
Get WiseFax app for iOS
Get WiseFax app for Android